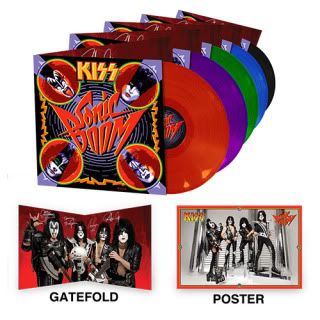 http://www.store2.livenation.com/cgi-bin/WebObjects/Store.woa/wa/product?sourceCode=KISWEB&sku=KISBN018
The critically acclaimed album will be pressed on 180 gram vinyl in five colors - Purple, Red, Green, Blue and Black. The album will be packaged in a full color gatefold jacket and includes lyrics on the inner sleeve and an exclusive 22" x 22" color poster!
Only 1000 of each color will be pressed!!
Other notes:This is only available in North American and is limited to three per order.
Sonic Boom Album Track Listings.
Side A:
1. Modern Day Delilah
2. Russian Roulette
3. Never Enough
4. Yes I Know (Nobody's Perfect)
5. Stand
Side B:
1. Hot And Cold
2. All For The Glory
3. Danger Us
4. I'm An Animal
5. When Lightening Strikes
6. Say Yeah
The Limited Edition KISS' SONIC BOOM Vinyl is available exclusively at KISSONLINE.com, the only official home of KISS!
Produced by Paul Stanley